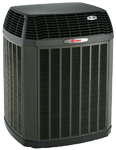 Heat pumps are a great solution for your home comfort system because they work to provide both heating and cooling. Heat pumps have SEER (SEER stands for Seasonal Energy Efficiency Ratio and measures the cooling efficiency of a heat pump or air conditioner) ratings like air conditioners and Heating Seasonal Performance Factor (HSPF) ratings for measuring heating efficiency. Higher SEER and HSPF ratings mean greater energy savings. SEER2 and HSPF2 is an updated version set by the Department of Energy that went into effect Jan. 1, 2023. SEER2 mimics real world conditions more accurately than SEER by utilizing the M1 blower testing procedure. The DOE created HSPF2 after refining HVAC system testing procedures to more closely mimic real world conditions.
Heat pumps are a very efficient alternative to electric heat. A heat pump works the same as an air conditioner in the summer, but it runs in reverse in the winter to heat your home. The system will be matched with a backup heating source, most often electric heat for those extremely cold days of winter.
Just like our air conditioners, many of our heat pumps have advanced features, such as 2-stage compressors and variable speed fan operation. These features not only improve the comfort level of your home, but can provide additional energy savings as well.
Heat Pump Product Offering